Lead-in Part
As we navigate a technologically advanced era, adopting AI tools has become instrumental in conquering productivity challenges. AI's transformative influence extends to flowchart creation, offering a new paradigm through AI Flowchart software. In this article, we uncover the profound significance of AI-powered flowchart tools, showcasing their unique features, efficiency, and ability to adapt to complex scenarios.
But before we talk about AI flowchart software, let us understand the significance of going ahead with AI-generated diagrams over more traditional diagramming.
Time Efficiency: Using AI to create flowcharts significantly reduces the time required for manual diagramming. AI-powered tools can automatically generate flowcharts based on input data or text, eliminating the need for users to design each element individually.
Automation and Accuracy: AI-powered flowchart creation ensures a higher level of accuracy and consistency compared to manually designed diagrams.
When it comes to diagramming, EdrawMax's name always comes from the top. The all-in-one diagramming tool offers an easy way to import and export Visio-generated files. Additionally, the company has finally introduced a one-of-a-kind AI chatbot and AI flowchart tool that creates a desired diagram within seconds.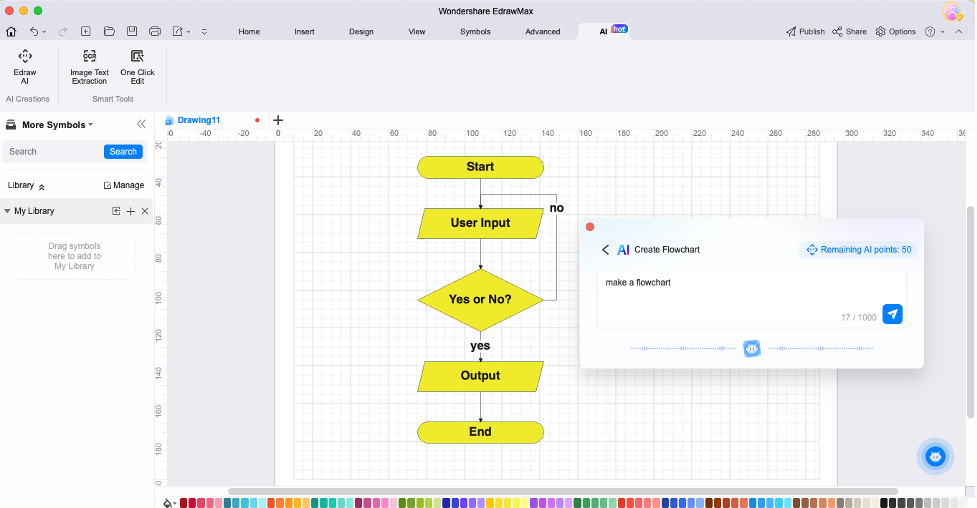 EdrawMax's AI One-Click Diagramming feature is a game-changer, enabling users to convert textual information into visual diagrams with just one click. This time-saving capability significantly accelerates the diagramming process, freeing up valuable time for other tasks.
The Pre-Scenario Diagramming feature allows users to visualize different scenarios and outcomes by creating multiple diagrams based on varying data inputs. This functionality proves invaluable for businesses and academics in strategic planning and risk assessment.
Pros of EdrawMax
EdrawMax offers pre-scenario diagramming for strategic planning and risk assessment.
With the built-in AI tool, EdrawMax now comes with Smart Containers. These containers are useful for automatic layout adjustment and organization within complex diagrams.
This AI flowchart tool has a customizable symbol library to access frequently used elements easily.
Cons of EdrawMax
With EdrawMax's AI tool generator, you can only work on flowcharts, mind maps, lists, and tables.
Supported System: Windows, Mac, Linux, Web, Android, and iOS
Visme
Just like EdrawMax, Visme also comes with a lot of built-in features.
Visme offers a vast library of high-quality stock photos, enabling you to add captivating visuals to your flowchart. Elevate your content with eye-catching images that resonate with your audience and enhance overall engagement.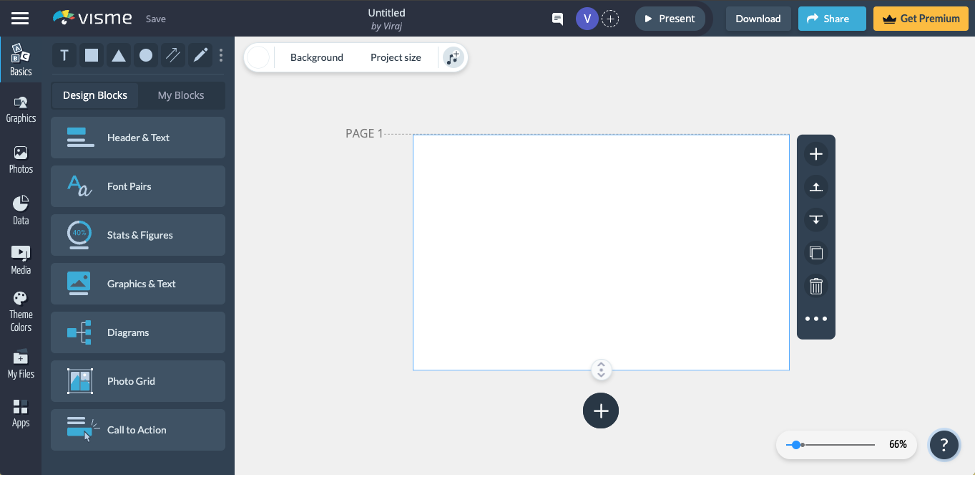 Maintaining brand consistency is effortless with Visme. Import your brand fonts and colors to ensure your flowchart aligns perfectly with your company's branding guidelines, enhancing recognition and reinforcing your brand identity.
Pros of Visme
Visme offers customizable elements to match brand identity and style.
In Visme's dashboard, registered users can find millions of stock photos to enhance visual appeal.
With Visme, it is very easy to import brand fonts and colors for consistent branded content.
Cons of Visme
In order to format and organize the content created by the AI tool, you require additional tech expertise.
Supported Systems: Windows, Mac, & Web.
Taskade
If you own a large business or are planning to move all of your process-related work to a digital space, then Taskade is one such tool that comes in handy. After the rise in artificial intelligence, Taskade also joined hands with similar AI flowchart software and launched its AI functionalities that help in creating flowcharts using AI.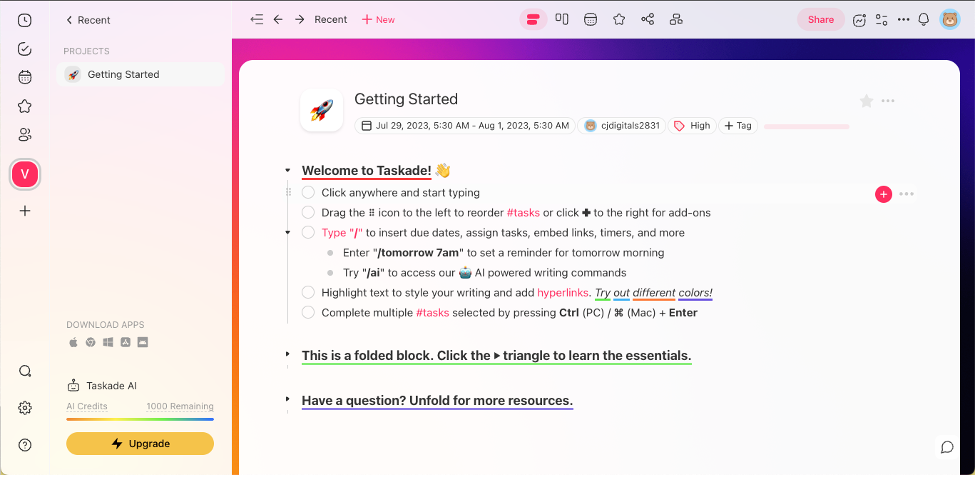 Beyond just flowcharts, Taskade's AI generator extends its prowess to various other workflows. Users can effortlessly create purchase order workflows, content promotion workflows, and more, tailoring Taskade to meet specific business or individual needs. Taskade offers three distinct subscription models, allowing users to choose the plan best suits their requirements. This personalized approach ensures users get the features they need to enhance their productivity and optimize their workflow.
Pros of Taskade
With Taskade's AI generator, one can create a flowchart in just a couple of minutes.
Taskade comes with customizable subscription models for personalized usage.
With this AI flowchart tool, registered users can easily access millions of royalty-free images for enhanced visual appeal.
Cons of Taskade
Users have complained that the interface feels overwhelming and cluttered when creating complex flowcharts.
Supported Systems: Windows, Mac, Linux, Android, iOS, and Web.
Whimsical
Whimsical's quest for innovation extends beyond its platform. By integrating with ChatGPT Plus, users can generate flowcharts and mind maps directly within ChatGPT. This integration enables users to collaborate effortlessly with AI language models, fostering creativity and ideation in a new dimension.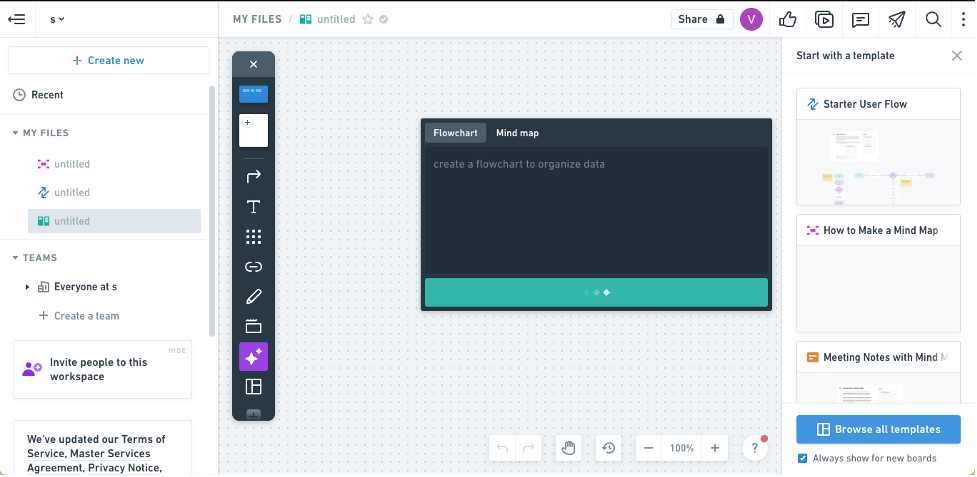 Whimsical's reputation for excellence and reliability is further reinforced by its adoption by industry giants. Notion, Stripe, Intercom, Carbon Health, and numerous other renowned brands rely on Whimsical to visualize their ideas, streamline their workflows, and present information with clarity and creativity. This trust bestowed upon Whimsical by leading companies is a testament to its robustness and ability to deliver exceptional results.
Pros of Whimsical
Whimsical seamlessly integrates with ChatGPT Plus for enhanced creativity.
Whimsical's free version comes with 100 AI prompts for exploration.
With this AI flowchart maker, one can easily streamline project management and ideation.
Cons of Whimsical
Users have found that Whimsical's document feature is very limited and lacks functionalities for formatting, editing, and collaborating.
Supported Systems: Web
FlowCharts.ai
As the name suggests, FlowCharts.ai is solely about creating flowcharts using AI tools.
One of the standout examples of FlowCharts.ai's application is in the healthcare sector. With its AI flowchart software, doctors can request patients to pre-fill flowcharts, facilitating quick and accurate diagnoses. This time-saving automation streamlines patient care, ensuring that medical professionals can focus more on treatment and less on administrative tasks.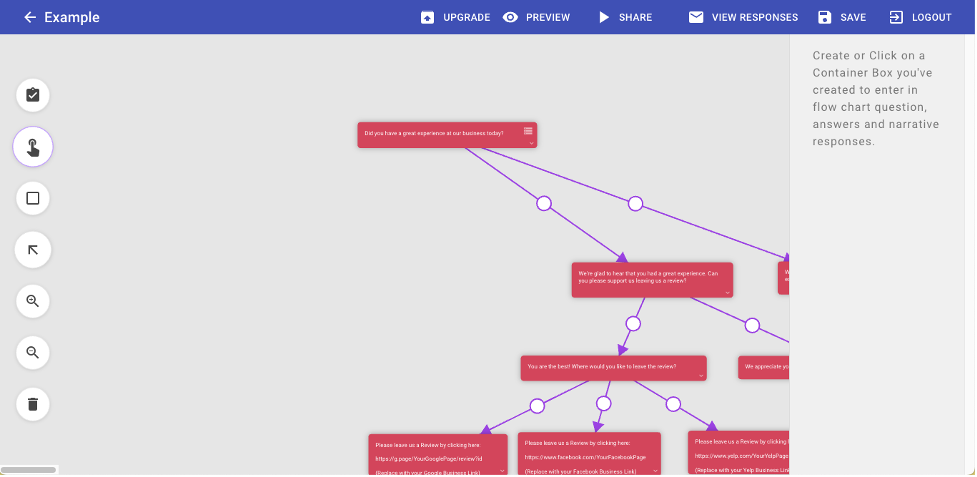 Businesses can easily harness FlowCharts.ai's capabilities to conduct candidate screening and filtering. The quick AI flowchart maker doubling as a form creator allows organizations to design interactive and intelligent assessments, gauging potential candidates' suitability for specific roles. This intelligent filtering process accelerates recruitment procedures and ensures that only the most qualified candidates proceed to the next stage.
Pros of FlowCharts.ai
FlowCharts.ai is a cross-platform tool. Registered users can access it on Google Play and Apple Store.
This AI flowchart tool comes with an economy plan for flexible and scalable flowchart creation.
In this AI diagramming tool, users can enhance engagement with interactive and smart surveys.
Cons of FlowCharts.ai
This software is mostly inclined to health professionals, and businesses from other domains might not find better tools and customization options that suit their interests.
Supported Systems: Web, Android, & iOS
Key Takeaways
Our exploration of AI flowchart software has revealed the transformative potential of harnessing artificial intelligence for visual thinking. These tools go beyond traditional flowchart creation, enabling users to streamline processes, make data-driven decisions, and enhance collaboration.
Whether in healthcare, recruitment, project management, or creative ideation, integrating AI technology elevates efficiency and accuracy, making these tools invaluable companions for professionals seeking to visualize complex concepts easily.