Everyone, including our kids are connected nowadays. While this isn't really bad per se, the problem is that there's a dark side to the web- cyberbullying on social media, disturbing photos and videos, and content that young minds shouldn't see.
It's important to instill good online habits so you and your child's privacy and safety are protected. Here are some of the best practices you can do.
Stay Alert on Social Media
Do you know who your child's online friends are? Also, you should be using and getting familiar with apps and social networks they are using so you'll know the level of privacy and reporting mechanisms. Then, have a chat with them on how they can stay safe. One good example is talking to someone who they trust when they think they're being bullied or committed one.
Parents should know how social media platforms work, particularly these actions:
– Blocking someone
– Keeping some information private
– Reporting offensive posts
You should also teach your children to not just meet any stranger they talk to online.
Keep Location Private
Most apps and social media platforms these days have geo-tagging as a feature, which isn't always welcome. For example, you wouldn't want everyone to know where you live or your whereabouts at a late time. Digital images may contain timestamps such as date, time and GPS location, so make sure to check the app or platform settings and disable them as needed.
Don't Always Share
Personal information other than first and last name shouldn't be shared in public. Encourage them to reflect on whether it's okay to share personal content (email address, school name, phone number, etc.) with a stranger- if it's a no, then it's not a good idea to share.
Master Parental Controls
Parents should know what control they have over their children's devices in order for it to be timely and effective. You can use built-in control options on your router, your ISP provider or with the help of a parental control app like Famisafe.
Use FamiSafe App
If tinkering with router and browser settings sound too tedious or restrictive, consider using a parental control and monitoring software.
Need a good iOS or Android parental control app? FamiSafe is a modern approach to parental control systems. It's one of the best parental control apps for Windows 10, iOS, Android and Kindle Fire, among others.
FamiSafe parental control app offers robust options where it matters most- social media, web browsing and apps. If you want total peace of mind then getting Famisafe should keep your mind off worrying and allow you to focus on other things.
Read up on our FamiSafe review and learn how to protect your kids online.
FamiSafe iOS and Android Parental Control
FamiSafe parental control gives your kids the freedom to explore the internet without the worries. It's an app that works on just about any mobile device, tablet and computer, and the good news is that it's very easy to use.
Here are the features of Famisafe parental control:
Control Screen Time. If you think screen time for young ones should be limited, you're not alone. Wondershare enforces this with a screen time feature that lets you set how many hours a day your kid can spend in front of his or her iPhone, Kindle tablet or laptop computer. You can set the schedule or even 'add' screen time for good grades or behavior.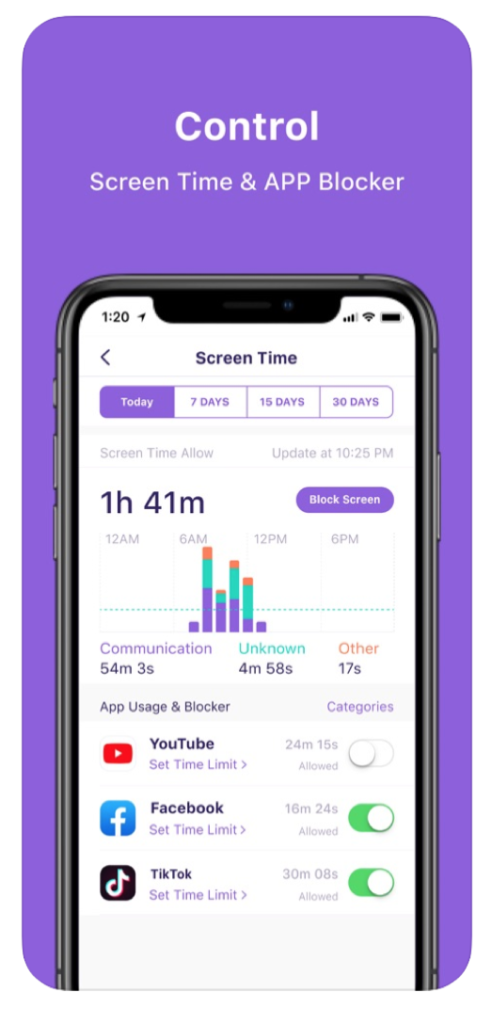 Filter Web Content. The internet can be an educational tool for research- it's filled with more information than your local library, after all. However, there's a downside in that it's also filled with dangers, especially for young adults and kids.
No matter the media, you can install FamiSafe as parental control Android or parental control iPad to filter out explicit content.
App Limiter and Blocker. With the best parental control app you can micromanage your kid's installed apps and even limit access or block them using a simple interface. Moreover, you can view which ones have been installed, when and how much time they're spending on it per day.
Family Locator. FamiSafe works as a semi spy app as it features a GPS locator and geo-fencing. You get alerted when they leave the set geolocation and where they are, thanks to real-time tracking capabilities.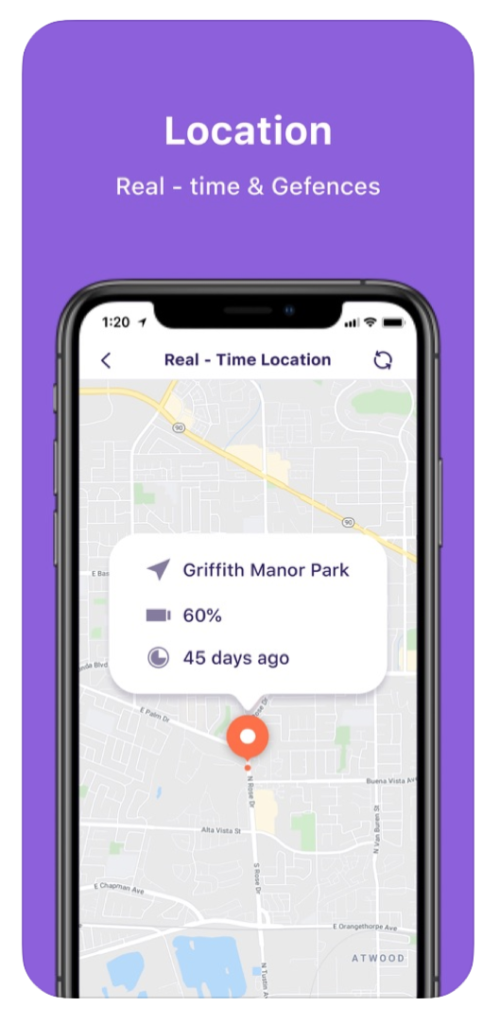 Parental Alerts. For those who can't stare at a screen all day, FamiSafe offers an alert and notification feature on important matters, such as when the device has accessed disturbing content, restricted media or when suspicious photos and texts are sent and received.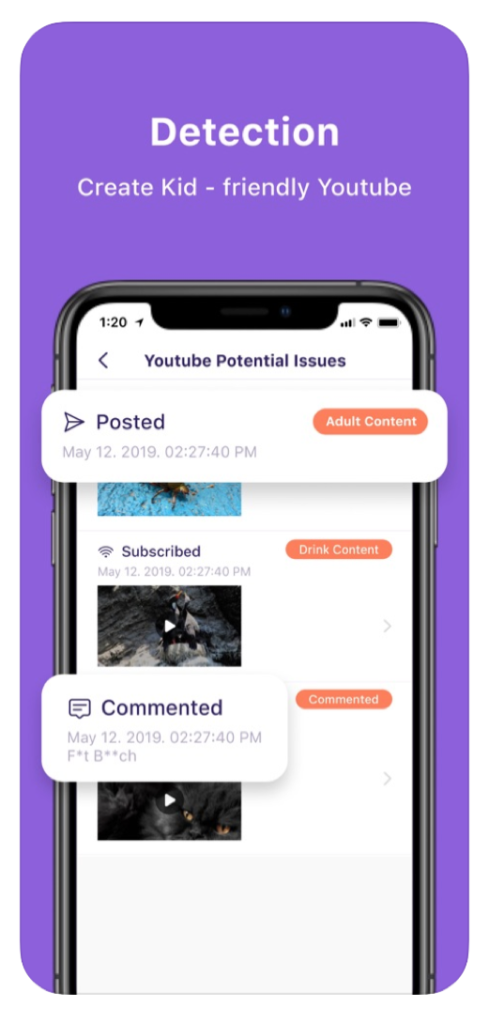 Stop Cyberbullying. With the help of the best parental control you can prevent cyber bullying from happening in your own home. FamiSafe can monitor your child's Instagram, Snapchat, YouTube and Facebook interactions. Mean, offensive, threatening, embarrassing, and even harassing content can be quickly spotted. You can also add words to look out for and set the app to send an alert for any sign of trouble.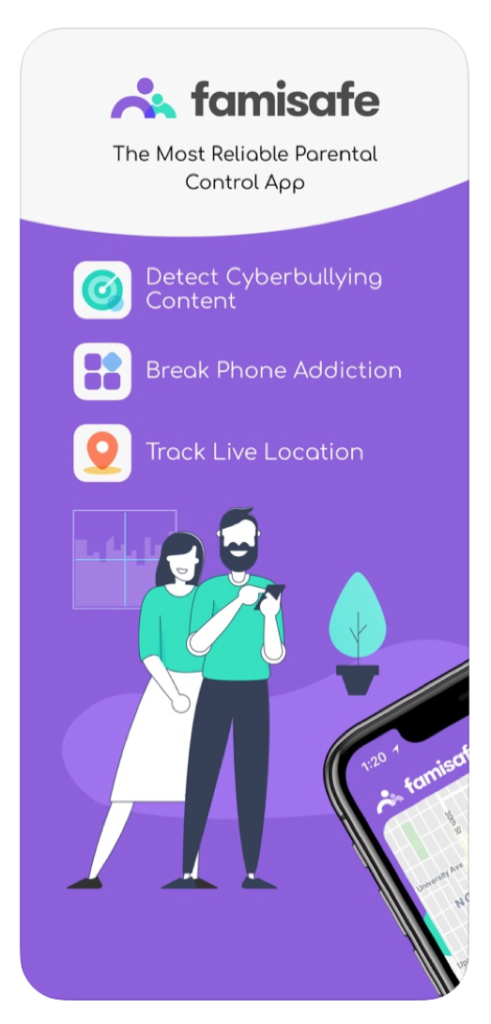 Installing FamiSafe- Easy as 1,2,3
To install Wondershare FamiSafe app you will need a valid email address.
Step 1. Go to the Famisafe Wondershare website at https://famisafe.wondershare.com/ and click on 'Sign Up'. Complete the registration process and click on the link they emailed you to activate your account.
Step 2. Install the FamiSafe app on your smartphone and your kid's device. The beauty of FamiSafe is that all the latest devices are supported, including Kindle Fire and Windows. It's available on both iOS and Android platforms on Google Play and App Store.
Step 3. Once installed, open and add the devices you want to monitor. When you want to monitor, view or change things in your child's phone, access the dashboard and make the tweak there.
FamiSafe App Pricing and Devices
Downloading the app is free on all platforms. Once installed, you can sign in using your registered username and email address.
The pricing on FamiSafe services is such that the longer you sign up for the greater discounts you enjoy. Updates are free forever for subscribers, as is the customer support.
For as low as $4.99 a month you get top-notch monitoring and control options such as web content filtering, screen time management and location tracking capabilities.
The wondershare parental control app comes in annual, quarterly or monthly subscription for $59.99, $19.99 and $9.99, respectively. It's better to sign up for the long-term package since you can save more.
Conclusion
Get the FamiSafe parental control app and you won't have to worry about your kids seeing or knowing things they shouldn't on the world wide web.
We like how the ios and Android parental software could block apps, certain websites and limit screen time so kids can unplug and enjoy their family's company and engage in healthy social interaction.
We recommend you try the parental control app for peace of mind!