It is a dual-pane file manager specially meant for the Mac and it has been created smoothly for proper functioning. Commander One performs different types of tasks such as copying, managing files, moving, renaming the file, and deleting. But now it also included with the function of default OS X file manager with ease. It also equips with the classic solution and provides an effective outcome to the Mac users. It has been updated with the latest trend and has made it 100% natural with highly advanced features. With the use of Commander One, you can easily use two panels and even user can also set-up their hotkeys. The best thing is the free cost software and the great alternative of the OS X Finder with lots of advanced features. The software is not limited to the one feature as it is packed with important features to make file management perfect.It Has Many Features Like Mac Terminal Etc.
We know that all people are not professional users but with this software, you can easily find a way to control the documents of the Mac without any hassle. You can say that the software is an all-in-one solution with lots of features. It is the perfect software and helps to manage files in all possible ways and continue to work with ease. With the use of the software, you can fully control documents and easily use the features such as:
Brief Mode: To manage and explore the variety of files at once.
Show hidden files: With this tool, you can easily explore hidden files
History and favorites: With this, you can easily access the favorite and already open file.
Customize Hotkeys: With the use of hotkeys, you can access any action with ease.
Convenient items selection: With a variety of option you can select your choice.
Fonts and colors: In this, you can choose a scheme and color for soothing eyes.
Root Access: With this feature, you can access files with full control
Unlimited Tabs: The software avail with two panels where you can explore unlimited tabs.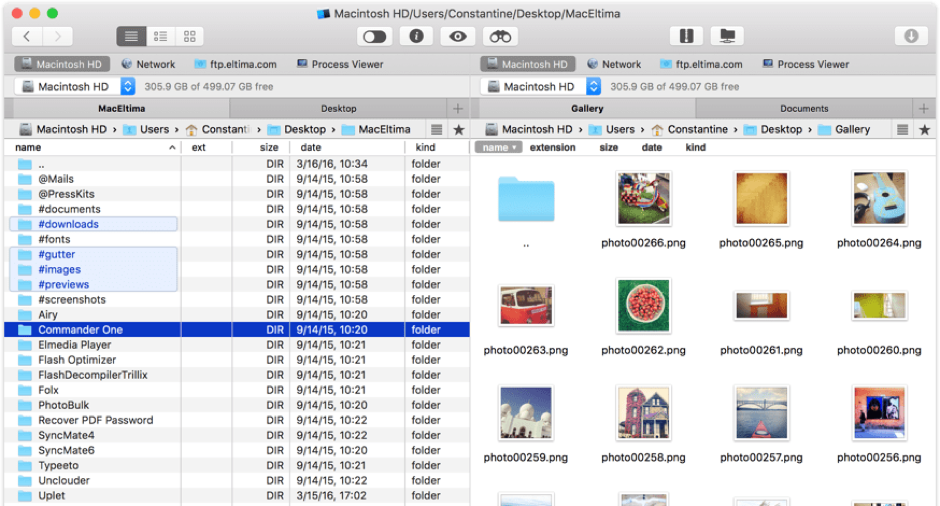 Offer advanced searching option
When you opt Commander One then it allows users to search any files and folders when it gets compressed. To make search precise you can also use regular expression and make that file sensitive. In this also you can seek a variety of options for searching files.
Search the content
With this option, you can easily search the file when you do not remember the name. In this, you can also search using the flexible setting inside it. For this, you can also choose text coding to make work easy.
Spotlight search
This is one of the advanced searches and in this, you can search the content. In this, there is no chance of a lost file.
In the software, you can also enjoy pro-pack features of Commander One and make the file management easy and convenient. The software usage is the easiest way to access and manage file.